For images of ultrasounds, Sallisaw, OK, parents-to-be come to Heavenly Imaging. We are a licensed and registered medical sonographer facility committed to using state-of-the-art technology to safely provide you with the highest quality live images of your baby, as well as pictures and videos to remember the exciting occasion afterward. We offer several ultrasound packages including: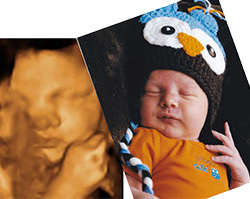 2D gender-only scan, as early as 16 weeks
2D ultrasound, 19 weeks
3D ultrasound, 24-35 weeks
4D ultrasound, 24-35 weeks
SneakPeek DNA, as early as 8 weeks
Some of these options are available in a combination package, as well. We offer the following exciting prenatal services in Sallisaw, OK:
Ultrasound packages: Our 2D gender scan is for parents who just can't wait till 19 weeks to know the sex of their baby, while we usually can tell the gender at this time, its NOT guaranteed. Our 2D, 3D and 4D ultrasounds provide exciting comprehensive images with more detail . The 2D gender and 2D/3D packages include recorded images on a CD.  The 4D package also includes the entire ultrasound recorded on a DVD.  If you have your 4D ultrasound before 35 weeks and we can't get a good image due to your baby's awkward positioning, we'll bring you back at no additional charge for a repeat scan.
Heartbeat-recording Stuffed Animal: This lovable, affordable keepsake will permanently record your baby's heartbeat as heard during your ultrasound session! Squeeze and hug it anytime for you to hear that wonderful sound as often as you'd like! We have a large variety of stuffed animals to choose from including a puppy, hippo, bunny, giraffe, and more!
If you want something to remember your pregnancy by, come to Heavenly Imaging to learn more about your unborn child and to obtain cherished keepsakes for the future. These precious items are a wonderful way to commemorate this special time in your life.
Gender determination as early as 8 weeks gestation with DNA testing.
SneakPeek utilizes the natural process of shared fetal DNA circulating inside the mother's bloodstream. Our PCR technology has the ability to detect the presence or absence of the male Y chromosome in the blood sample provided starting at 8 weeks into pregnancy. If it is detected then the baby's gender is male and if it is not detected then the baby's gender is female. The accuracy rate is 96.6%, however, there is a money-back guarantee if the gender is determined later to be wrong.
A small sample of blood is drawn and sent to the Sneak Peek Lab overnight for testing.
Turnaround Times
Fast Track results will be made available between 6PM – 9Pm Pacific time the day the sample is received.
Standard Track results will be made available between 1PM – 5Pm Pacific time the day after the sample is received.
Fast Tract (Next Day Results) cost is $149 + tax
Standard (Two Day Results) cost is $129 + tax
Incorrect gender results will receive a full refund and free retest if desired.
This is a link to a calculator to determine gestational age. Click Here
FAQ
I've previously had a boy. Will that skew my results? Clinical studies have shown that fetal DNA clears
from mom's bloodstream between a few hours to 2 days after birth.
I'm having twins. Can SneakPeek determine fetal sex for each one? In the case of identical twins, if male
DNA is found, then both babies are boys. If no male DNA is found, then both babies are girls. For fraternal twins (or more)
finding male DNA will confirm at least one baby is a boy, but cannot distinguish if the second is a boy or girl.
Do hormone disorders such as PCOS affect my results? SneakPeek is a DNA based test, so hormones do not impact results.
Is this test safe? SneakPeek Clinical is a non-invasive prenatal test (NIPT), and it's safe for both mom and baby.
How quickly can I get my results? Your sample is mailed to SneakPeek Labs via Priority Mail Express (aka "overnight mail").
FastTract customers: Expect your result email between 6-9pm Pacific Time the day your sample is received by SneakPeek.
Standard customers: Expect your result email between 1-5pm Pacific Time the day after your sample is received by SneakPeek.
Are results guaranteed? SneakPeek Clinical is the most accurate early gender test on the market. If your test result does not match the gender of your newborn, you'll receive a full refund.
How is my privacy protected? We know your DNA information is personal. to protect your privacy:
1. SneakPeek tests only for baby's gender. No data is gathered about disease states or other health-related information.
2. After the test is run, your DNA sample is disposed of by a professional chemical management company in
compliance with federal standards.
3. SneakPeek never shares your results with anyone other than the email address you provide.
Where can I learn more? Visit www.sneakpeektest.com
Baby Boutique and Gift Shop!
We have baby clothing and accessories for boys and girls. Each item is locally – crochet, knitted and embroidered here in shop. Our Boutique contains items that are perfect for infant and newborn photography or even themed shoots. Dress your baby in the most adorable outfit and snap that priceless photo! Visit us TODAY!
Massages
1 Hr $60
1/2 Hr $35
1Hr Pregnancy Massage $60
Aromatherapy add $10
Hot Stone add $20
Tanning
1 month unlimited $45 + tax – no membership fees!
10 min stand up bed
12 min lay down bed
Spray Tanning
No appointment necessary only takes 4 minutes!
Level 1 $20
Level 2 $25
Level 3 $30